Australian Low-E glass of high functionality
When buying a window, everyone thinks about its energy efficiency and other functionalities.  How to keep the room warm in winter with the help of low-e double glazing? How can you prevent harmful solar radiation in summer and how can you make sure that the room does not turn into a steam bath if it is too hot outside? Developers of double-glazed low-e glass windows aim not only to create a protective window that prevents external intrusions, but also to create and maintain a pleasant microclimate in the room. This is no easy task, but with the help of modern technology and thanks to many years of experience in the search for the best solutions for energy saving, this problem has been solved in astonishing manner.
The Low-E insulated glass is created using high-tech equipment, the knowledge and experience of skilled professionals and high quality materials, including precious metal elements. So what is Low-E glazing?
How does Low-E glass works?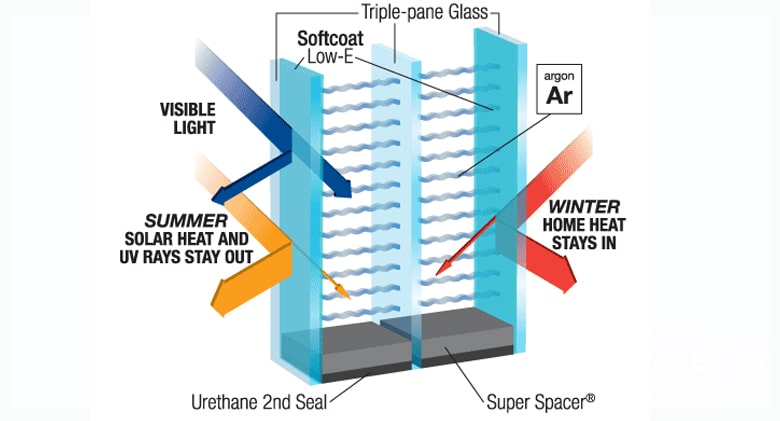 Low-E, or Low-emissivity, or emissivity glass is the coefficient of radiant absorption, i.e. with the prefix Low it is clear that it is a low coefficient of radiant absorption. Direct sunlight heats up a surface very strongly and a large part of this heat is harmful because the radiation contains both ultraviolet and infrared radiation. The task of Low-E coating glass surfaces is to convert this radiation, neutralize the harmful ones and allow the useful ones to pass through. In fact, Low-emissivity is the relative power of a surface to emit heat by radiation. Low-E glass windows reduce UV radiation by 99.9 percent, while helping to absorb and retain heat in the room.
Low-E coating performance measures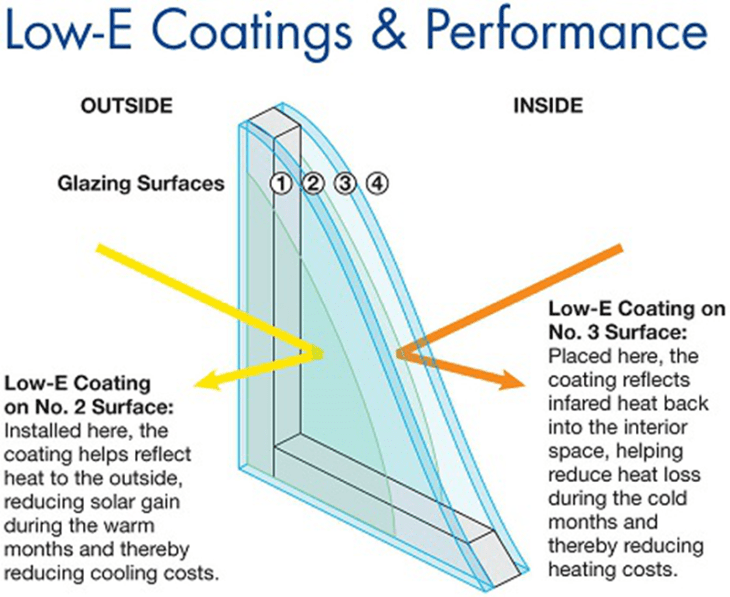 The Low-E glass performance is measured based on several factors:
Solar Heat Gain Coefficient (SHGC), or in other words, the increase in thermal energy in a room of any purpose as far as the window absorbs the incident solar radiation. So we have solar control Low-E glass here.
The U-value is a rating given to a window depending on how much heat loss it allows for in neutralising UV and IR radiation. The window with Low-E double glazing, as an intermediate material between the radiation itself and the room into which it enters, either transmits it or neutralises it. In the case of Low-E glass, it does both. There is a transfer of heat into the room with neutralisation of the harmful radiation. Here we have perfect Low-E glass ratings.
Visible light transmission (VLT). The clear Low-E glass surface is not just transparent, but due to the thin coating it has a blackout which does not, however, prevent the penetration of sufficient light into the room. Here we have perfectly lit room.
The light intensification factor, that is in fact the solar gain factor, is the ratio of the visible light transmission through a Low-E laminated glass window to its solar gain factor.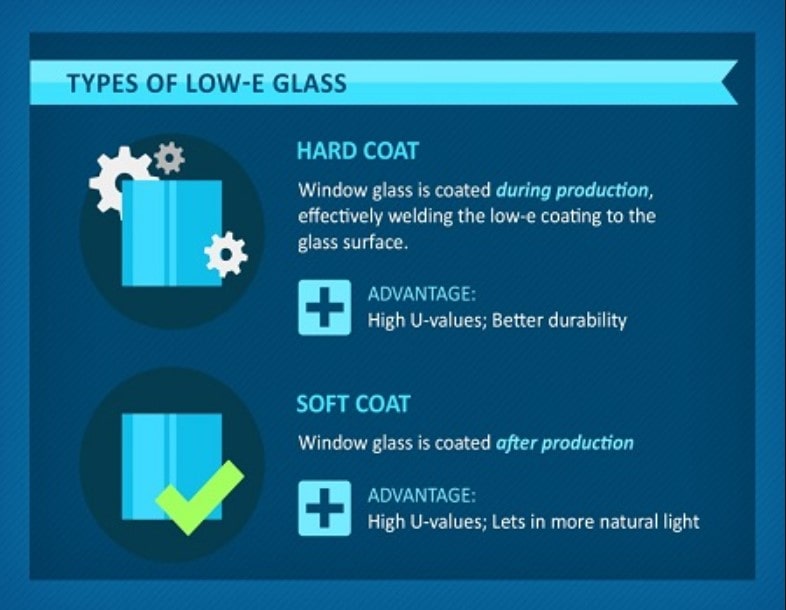 Low-E glass is produced using the following types of raw coatings:
Low-E passive coating (Hard-Coat Low-E): Low-E passive coatings are produced during the pyrolytic process. This means that a pyrolytic coating is created which is used as protection. The pyrolytic coating also acts as an energy insulator, which means that energy is saved and losses are minimized. Bonding with the glass during the hot coating process, the coating creates a strong bond, giving the glass and the insulated Low-E windows eventually an elasticity and resistance to negative influences.
Solar Control Low-E (Soft-Coat glass) Coatings: Solar Control Low-E Coatings are manufactured using a magnetron sputtering process (MSVD). In terms of physics, such a coating creates a defined energy field on the surface. The efficiency lies in the significant reduction of heat loss in the room. This is due to the phenomena of interference, i.e. overlapping, and electrical conductivity. Glass with such a coating reflects heat waves in the infrared range. Low-E glass is mounted in such a way that the heat reflective film faces the inside of the chamber.
The following types of raw glass are also used:
Painted sheet glass in mass not lower than the appropriate grade
Tempered glass in accordance with National Standard, made of sheet glass of a corresponding grade
All-laminated glass sheets in accordance with National Standard, made of glass sheets of a corresponding grade.
The raw materials must comply with all requirements of the normative documents.
What is a Low-E window and what makes it energy efficient?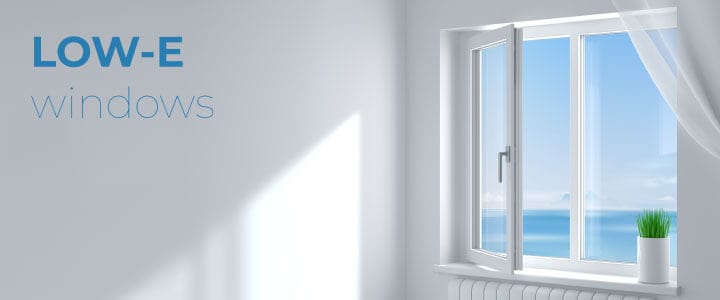 Low-E coated glasses are installed in the package so that the heat reflective film faces inwards, i.e. towards the glass space between the panes. In this way, the inner pane surface heats up, reducing condensation and drafts caused by temperature differences. An average sized window with Low-E glass during the heating season retains an incredible amount of heat which is equivalent to the effect of burning 120 kilos of liquid fuel.
In addition, during the warm season there is a problem of furniture and wallpaper burning out and fading due to too much sunlight penetrating into the room if conventional glass is installed. Installing glass units with energy-efficient Low-E glass not only creates a comfortable environment in the room, but also protects furniture and wallpaper from fading.
The emergence of double pane Low-E window has solved a number of problems, such as shade control, daylight intake, elimination of glare, natural ventilation and the generation of renewable energy alongside. At the same time it is possible to get a lot of natural energy, which is an additional source of energy saving in buildings. The glazed parts of the facades of buildings are a huge source of energy loss, but it is Low-E that has made them a potential source of energy savings. So double pane Low-E window is our future!
Which type of Low-E coating glass is best for my climate?
A significant amount of energy loss occurs through translucent structures. Since windows often occupy a substantial part of the facades of buildings (is about 33%) a minimum of 25% of the heat loss occurs. The question of which glazing to choose for a particular climate is also relevant because Australia's climate is not uniform, arid in some places, more lenient in others, harsh here, and temperate there. Therefore, the energy loss coefficient will be different. If you choose conventional single pane glass, the heat loss will be many times greater. The advantage of Low-E glass is its versatility. Low-E argon windows perfectly manage insolation (irradiation of surfaces by sunlight). It solves the key problems that arise in a region with any climate: providing natural light, protection from noise, excess solar radiation, as well as the safety and reliability of the construction. So Low-E glass, Low-E vinyl windows are suitable for all climates for sure.
Advantages and disadvantages of low-e glass
Why do manufacturers advise against buying windows with standard glass? Why does good quality glass have a particular coating? Numerous researches have shown that glazing with uncoated glass cannot perform the necessary functions needed to retain heat, reduce noise and effectively absorb solar radiation. It is also wrong to think that normal glass fills the room with light to a much greater extent than coated Low-E glass. Let's look at the advantages and disadvantages of Low-E glazing:
The coating leaves heat where there is more of it. Sunlight is long-wave heat rays, and low-e glass reflects them back to their emitter. In winter, when the radiators are on, more heat escapes indoors; in summer, it escapes outdoors as the sun heats a large number of surfaces (asphalt, concrete facades of buildings, etc.). This significantly reduces the cost of heating in winter and air conditioning in summer.
Improving comfort and reducing energy costs Low-E glass is more profitable.
Low-E coating retains more than 90% of the heat in the room.
The saving energy advantage of Low-E glass means that you don't need to buy double-glazed windows.
The light weight of Low-E glass increases the durability of the fittings.
The soft coating on Low-E glass is easily deformable and it is therefore important to position the side on which it is applied to the inside of the glazing unit.
Low-E glass price is several times higher than conventional glass, but the costs are quickly recouped.
Double-glazing versus low-e glass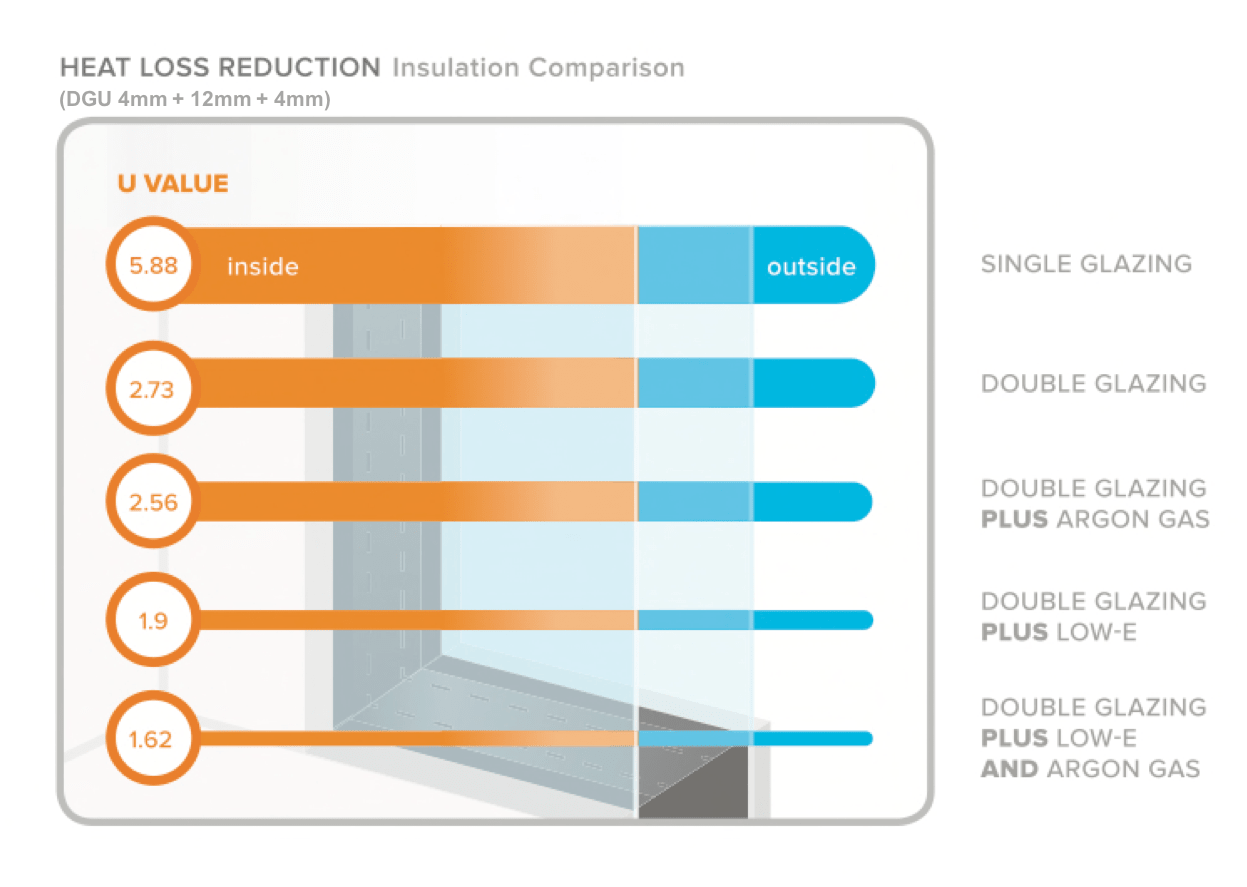 It is wrong to think that it is more profitable to install triple-glazing windows unless it is triple pane Low-E windows. Contrary to this widespread belief, single- or more glazed windows with Low-E glass are more efficient and economical. Low-E coating is multifunctional, exhibits excellent performance and does not lose its properties over time. Low-E glass is strong, which means that it provides good protection, retains heat and allows useful light to enter. In addition, by reducing the weight of the insulating glass unit, the geometry of the window can be maintained and the durability of the fittings in the window casement can be eliminated. The budget is saved on the product itself and on what is minimized with it – heating costs. It costs less, it weighs less, so it is durable, and it insulates better.
The use of solar control Low-E glass also makes it possible to expand the area of application of such glazing, to use large areas without significant heat loss and without increasing air-conditioning costs in summer and heating costs in winter. Consequently, the field of architecture and design is expanding and the possibilities for the design and construction of new buildings are increasing, as is the renovation of old residential and non-residential buildings. The use of Low-E glass will provide a balanced microclimate in any room because the glazing is endowed with excellent sun protection capabilities. When choosing a glazing variant, you should pay attention to the number of light apertures and their size because the requirements and norms of natural illumination should be taken into account. Low-E glass meets these requirements.
Low-E glass is a new and promising product in the glass industry, which has been acknowledged by many specialists to be indispensable for the manufacture of insulating glass units. It is a modern approach to glazing residential and non-residential buildings. Particularly when it comes to fickle or harsh climates, worth to pay attention to Low-E windows. Costs are worth it!