Best uPVC Double Glazed Doors solutions in Sydney!
Our company, represented by experienced specialists, manufactures Double Glazed Doors. It is our own production in Sydney. Exploding demands for reliable doors which include the characteristics of strength, noise insulation and aesthetics encourages us to produce products that fully meet the above requirements. We monitor the quality and pricing of our doors and offer our customers the following:
10 years Warranty
all types of Double Glazed Doors (design can be produced under the order of any complexity)
production time of any complexity no more than 3-5 weeks
acceptable price
Our company is at your service
Our company has been among the leaders in production and sales for 10 years. We solve any task; we offer perfect service and good price. Our Double Glazed Doors are the most effective way to keep your home safe, increase thermal efficiency, reduce noise and reduce maintenance costs. Thanks to high-tech manufacture and qualified specialists it is possible to perform any design, any geometry of Double glazed door. Doors in traditional or modern design - our projectors will find the most suitable solution for you. We offer a variety of glazing and fittings options, so it is easy to choose both a budget option and a more expensive one.
The best PVC profile Deceuninck
all over Australia
All our clients
would recommend us
We get the best reviews
throughout Australia
More than 10 years
on the market
We will produce any kind of Double glazed door
We are ready to implement major projects: our specialists, production facilities and quality raw materials help us to start manufacturing immediately. We will not fail in terms of deadlines. Timely production can also be attributed to the advantages of our company. Double glazed patio doors can be fabricate for your company, double glazed french doors are for your living room, double glazed back doors are for cottages, double glazed sliding doors are for country houses. Which order will you make? Any option we will make of high quality and in time. The doors meet all quality standards and the Australian Energy Assessment Scheme. The doors are very sturdy; you and your children can sleep without fear of your safety or the safety of your property.
Double-Glazed patio doors
Double-Glazed french doors
Double-Glazed sliding doors
Advantages of our double glazed doors
The most obvious advantage of a Double glazed door is its wide variety of shapes and colours, which is cannot be said about its metal and wooden counterparts. Moreover, the Double glazed door is relatively light and easier to install than the same wooden doors.
Double glazed door cost almost the same amount as wooden doors, but in terms of thermal insulation they are more efficient, whether you choose a blank door or a model with a glass unit.
In terms of fire safety, plastic entrance doors, interior doors, balcony doors and windows and their accessories are now made of non-combustible polymer. They can withstand 10 to 15 minutes of open flame, then just start to melt, but not burn.
The multi-level sealing system is a well-designed project and Double glazed door will not let the slightest draughts through. The tightness of frames will not change over time and moisture will not become a cause for drying out, as can happen with wooden doors. A windy and humid climate will not affect the door's durability. As for colour, it will not fade over time thanks to special quality paintwork materials and special coatings. Glass also will not change its aesthetic qualities.
The Double glazed door, which on one hand is light, is remarkable for its outstanding durability. Frames, special hinges, reinforced locks and other similar tricks ensure reliable protection of the room. The polyvinyl chloride (uPVC) from which the structures are made is resistant to aggressive components such as alkalis, solvents and even some acids.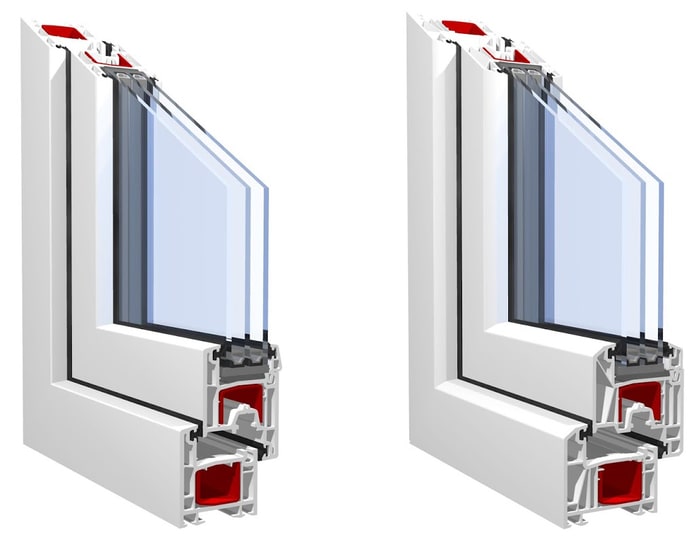 Strength
Profile reinforcement 1.5-3 mm
competitors have 1 mm
Anti-burglary
High security with internal glazing beads
only at Prestige Plus
Noise insulation
Air tight profile combined with our sound
insulating double or triple-glazed glass unit, is unmatched!
Thermal insulation
5 Chamber profile maximises thermal efficiency
ENERGY SAVING
Our basic uPVC double glazed windows at least 3 times more energy-efficient than any other windows. They can achieve an average u-value of 1.8, when using one of our high-performance glazing options. The profiles we use also provide excellent air & water tightness
SOUNDPROOFING
We have a range of window styles with double rubber compression perimeter seals and offer custom laminates with extra thick PVB layer from 6.5mm-19.76mm! The air gap range is 8mm-24mm. As we mentioned, our products can achieve sound reduction of up to 80%! In some cases also achieving 45RW.
THERMAL INSULATION
The profiles excellently increase heat and thermal insulation due to the best PVC frames and the high quality double glazing. The uPVC double glazed windows reduce the heat transfer, which will definitely increase your level of comfort in any weather, rain or shine!
WIDE CHOICE OF FITTINGS
We have a wide choice of hardware. All the colours are presented to match the profile colour selection, including silver, gold, black and many others. If you're looking for something that we currently do not offer, we can arrange to order the speciality hardware you desire. We are constantly replenishing the stock of biometric locks and motorized window openers / drives.
CHOICE OF COLOUR SOLUTIONS
There is a really rich choice of colours of profiles to fulfill any bold solution. The entire colour palette from golden to black is presented in our showrooms. Aluminium clips can be coated any colour. But we must admit, white is most in demand with our clients. So it is always in stock.
MADE IN AUSTRALIA
Our production is located in Sydney. We carry out all orders at a high professional level from select quality inputs. Our specialists and experts use all their skills to make the high quality products to satisfy your wishes.
We are glad to see you in the best showroom in Australia
Except the production itself, 4 showrooms are presented to you, where you can see doors with glazing, as well as other existing products, assess its quality and find the model of interest. Managers will help you to make the right selection of uPVC door. They will tell you about the technical characteristics, they will tell you about production technologies if you wish, advise you on how to properly care of doors with glazing. The assortment is conveniently displayed, and you will be able not only to see but also check how the doors work. Moreover, there are fresh air and nice lighting in the showroom. European quality in Sydney is to your attention, as much as an acceptable cost!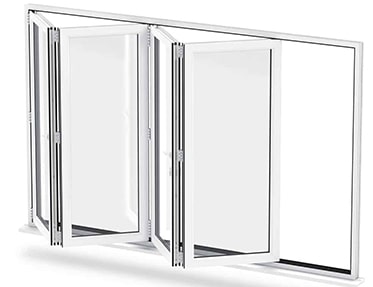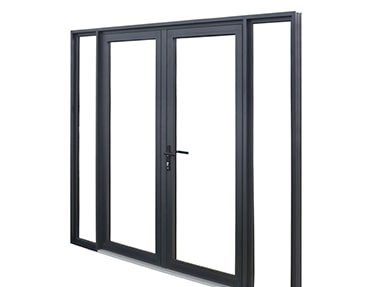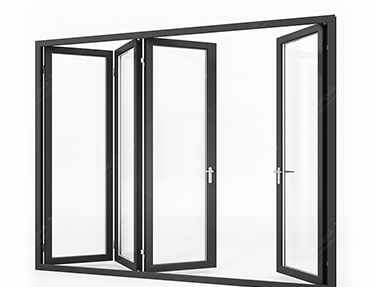 Need a consultation?
Our operators will answer any questions
We offer you good price and service
Our company offers excellent service besides the quality products. We are not committed to double standards and therefore, if we take an order, we do it on time and according to technical, aesthetic requirements. Good talking is good doing. Full customer support starts with a call and continues with the product guarantee.
It suffice to say double glazed doors cost inexpensive. It will give you a pleasure to buy them also because of the discount.
Our cooperation goes through the following stages:
Step 2
Measuring and projecting
Step 4
Turnkey installation


Energy efficiency


Soundproofing


Safety
The energy efficiency of glazing is an important characteristic, as it is the quality that is responsible for indoor comfort. Warmth in winter and pleasant coolness in summer is provided by high quality glazing, which is able to retain heat, minimize the penetration of drafts, sunlight, condensation, when the thermal insulation remains at a high level for a long time. Viridian glass solves the problem of energy saving in any season. In any weather your house will be filled with a comfortable atmosphere. Viridian glass is made with the latest technology, which makes living in windy, arid or rainy region coziness.
One of the key factors in choosing quality glazing is noise reduction. Is it worth describing the benefits of quality soundproofing when a room in a noisy region is always dominated by silence and tranquility. Noise neutralization is ensured by thick glass and multi-layer magnetron coating; and high-tech equipment ensures precision manufacturing. Viridian glass is the latest word in high quality glazing, and if you want noise to stay outside your apartment, make the right choice for noise neutralization.
Reduced Rate of UV Fading
Windows should perform, among other things, a protective function, because the comfort of living directly depends on the feeling of safety. Protection glass, namely Impact-resistant glazing uses tempered, laminated security glass, with a vinyl reinforcing film. These components make the glazing strong, resistant to mechanical impacts and durable. Such security glazing provides a high level of protection against intrusion and burglary. By installing glazing with Viridian protection glass, you will feel completely safe at all times.
Reduced Rate of UV Fading
Doors can be like any geometry, just like any colour. Particular attention is paid to this, as it is important to get a trendy shade that matches the customer's wishes and blends in well with the colour palette of the interior. The complexity of the task is minimized, because we offer a decent catalogue of colours and shades combinations. Exterior double glazed door is the best solution for your own space.