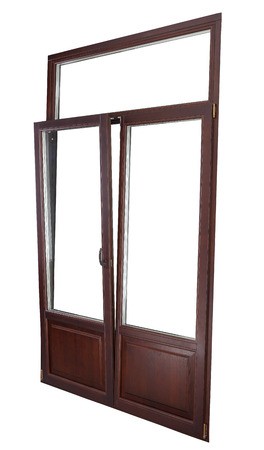 Having the same principles as the tilt & turn window, the tilt & turn door is created for those who want the best of both worlds. Thanks to their construction, they act as a door and a window in one! You can simply open them, in the same manner as a normal door or close the door, and tilt the door offering all the advantages of a window. Allowing a steady ventilation all day, without having your door wide open!
All the doors from Prestige Plus are highly secure, and the tilt and turn door is no exception. Our top-class design will improve the security and visual aesthetics of your home in one.
Benefits of Tilt And Turn Doors
One of the main benefits of tilt and turn doors is the range of types of ventilation available. Thanks to the tilt function proving you with a ventilation, allowing  you to control your environment exactly the way you like it.
Tilt and turn doors are superior in terms of functionality not only because of the duel opening, but also because of the air-tight seals, which is another reason why they are recommend product to come in our noise reduction glass – together they make a powerful solution to noise.
Tilt & Turn Doors use the latest technology to ensure it makes your home as secure as possible. In order for tilt and turn doors to function properly they must have a more robust internal hardware with numerous locking points. The multiple-point locking  points are located on several places around the main door frame, making it extremely resilient. Along with the toughed or laminate glass Prestige Plus use for all our units,  you'll be feeling much more comfortable inside your home.
By choosing custom made uPVC doors from Prestige Plus, you're getting an array of options for combining handles, colours, glazing, and frame choices. As far as the choice of colours is concerned, our doors can be custom laminated, giving you the option to have different colours inside and outside. You can also choose from a plethora of handle choices in terms of styles and shapes so that you can create a more modern home design. Check out our colour options on the uPVC Windows & Doors  page! 
Want To Know More?
When it comes to manufacturing doors, Prestige Plus is constantly ahead in terms of design, technology, and quality. As a result, we produce the highest-quality doors on Sydney door market. Get in touch with us at Prestige Plus for more detailed information on how sliding doors can transform your latest home project.