Discover the best Double Glazed Windows that our experts and clients can recommend you!
10 years warranty
all types of uPVC Double Glazed Windows produced in Sydney from high quality materials
a fast turnaround time of just three – five weeks on all orders
Why choose PrestigePlus?
We have been manufacturing high quality and modern looking double glazed or double pane windows for 10 years. Our priority is to find the best solution for our clients and ensure they're completely satisfied with their choice. Our team of highly trained professionals are ready to respond immediately and take on any challenge. Our experts can help you find the optimal solution for each specific situation, which will significantly increase the level of your comfort. Double pane or double glazed windows are becoming increasingly popular due to their obvious benefits including higher energy efficiency. Double glazing involves using two glass panes with a narrow gap between. The gap is filled with an inert, completely safe, gas which acts as extra insulation. Double glazed windows will help to maintain the internal temperature of your home at a desired level, therefore minimising your heating and cooling costs.
The best PVC profile Deceuninck
all over Australia
All our clients
would recommend us
We get the best reviews
throughout Australia
More than 10 years
on the market
Advantages of our double glazed windows with Deceuninck profile
Our uPVC double glazed windows are made with the highest quality, modern materials. Originating in Europe & exploding with popularity, the Deceuninck Group is one the world leaders in uPVC profile & has perfected their design, tailoring it to the Australian climate. All our windows & doors are manufactured in our Factory in Sydney, using local Australian Glazers for our double glazed glass units. Prestige Plus is proudly certified as Australian Made & Owned. The main characteristic of the products is their strength & durability, being twice as strong some other systems. The profile is then coated with a titanium compound, so the colour will never fade even in the harsh Australian sun! The glazing bead of the profile is internal, meaning it can not be opened by intruders, this reinforcement increases protection against burglary. To ensure a tight rebate of the sash to the window frame, sealing rubber is used. Sound absorption, high-quality waterproofing and protection against drafts depend on the quality of sealing rubber. The unique shape of the sealing rubber has been developed by Deceuninck company. The rubber band is made in the form of a chamber and an adjoining petal. Such a technical solution can cut out external noise by up to 80%.
Our company offers a wide range of uPVC double glazed windows in recognizable style and design variability. Our products are in demand due to their high quality and their aesthetic characteristics. It is compatible with most types of security systems. Reinforcement inside the frame allows the production of windows of any size and configuration. The smooth surface of the profile was also appreciated by our clients. High-quality profile design can guarantee you 10 years of pleasant window operation.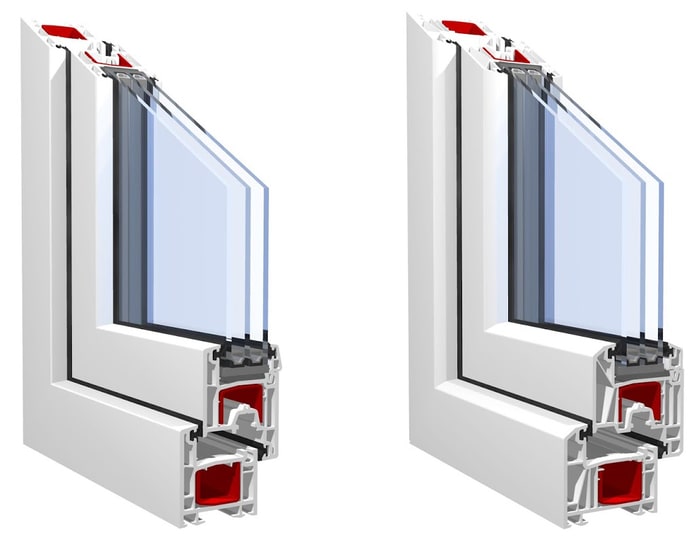 Strength
Profile reinforcement 1.5-3 mm
competitors have 1 mm
Anti-burglary
High security with internal glazing beads
only at Prestige Plus
Noise insulation
Air tight profile combined with our sound
insulating double or triple-glazed glass unit, is unmatched!
Thermal insulation
5 Chamber profile maximises thermal efficiency
ENERGY SAVING
Our basic uPVC double glazed windows at least 3 times more energy-efficient than any other windows. They can achieve an average u-value of 1.8, when using one of our high-performance glazing options. The profiles we use also provide excellent air & water tightness
SOUNDPROOFING
We have a range of window styles with double rubber compression perimeter seals and offer custom laminates with extra thick PVB layer from 6.5mm-19.76mm! The air gap range is 8mm-24mm. As we mentioned, our products can achieve sound reduction of up to 80%! In some cases also achieving 45RW.
THERMAL INSULATION
The profiles excellently increase heat and thermal insulation due to the best PVC frames and the high quality double glazing. The uPVC double glazed windows reduce the heat transfer, which will definitely increase your level of comfort in any weather, rain or shine!
WIDE CHOICE OF FITTINGS
We have a wide choice of hardware. All the colours are presented to match the profile colour selection, including silver, gold, black and many others. If you're looking for something that we currently do not offer, we can arrange to order the speciality hardware you desire. We are constantly replenishing the stock of biometric locks and motorized window openers / drives.
CHOICE OF COLOUR SOLUTIONS
There is a really rich choice of colours of profiles to fulfill any bold solution. The entire colour palette from golden to black is presented in our showrooms. Aluminium clips can be coated any colour. But we must admit, white is most in demand with our clients. So it is always in stock.
MADE IN AUSTRALIA
Our production is located in Sydney. We carry out all orders at a high professional level from select quality inputs. Our specialists and experts use all their skills to make the high quality products to satisfy your wishes.
Need a consultation?
Our operators will answer any questions
For the convenience of our customers, we have equipped four showrooms, where our products are presented. Our managers will help you make the right decision when choosing a profile and glazing to improve the characteristics of your home and solve the problems of keeping warm or cool and reducing noise, which will definitely increase your level of well-being and help to reduce high energy bills.
Our company is a market leader in manufacturing of thermally broken uPVC, double glazed windows. With us, you will find the perfect double glazed window solution at competitive prices. Our products are adapted to the local climate conditions, including rural & coastal. We offer a 10 year warranty on our frames, glass & hardware. Enjoy the unmatched benefits of a double glazed window combined with our thermally broken uPVC profile, only at Prestige Plus!
Step 2
Measuring and projecting
Step 4
Turnkey installation
8 Best Double Glazed Windows colours
We offer a wide range of colours to suit any interior design. Please see the colour display below for most our popular colour choices for Double Glazed windows. If you would like to get something special, please contact our specialists, and we will endeavour to find a unique solution to perfectly fit your home or office.


Energy efficiency


Soundproofing


Safety
The energy efficiency of glazing is an important characteristic, as it is the quality that is responsible for indoor comfort. Warmth in winter and pleasant coolness in summer is provided by high quality glazing, which is able to retain heat, minimize the penetration of drafts, sunlight, condensation, when the thermal insulation remains at a high level for a long time. Viridian glass solves the problem of energy saving in any season. In any weather your house will be filled with a comfortable atmosphere. Viridian glass is made with the latest technology, which makes living in windy, arid or rainy region coziness.
One of the key factors in choosing quality glazing is noise reduction. Is it worth describing the benefits of quality soundproofing when a room in a noisy region is always dominated by silence and tranquility. Noise neutralization is ensured by thick glass and multi-layer magnetron coating; and high-tech equipment ensures precision manufacturing. Viridian glass is the latest word in high quality glazing, and if you want noise to stay outside your apartment, make the right choice for noise neutralization.
Reduced Rate of UV Fading
Windows should perform, among other things, a protective function, because the comfort of living directly depends on the feeling of safety. Protection glass, namely Impact-resistant glazing uses tempered, laminated security glass, with a vinyl reinforcing film. These components make the glazing strong, resistant to mechanical impacts and durable. Such security glazing provides a high level of protection against intrusion and burglary. By installing glazing with Viridian protection glass, you will feel completely safe at all times.
Reduced Rate of UV Fading
Double glazed windows is a time-tested quality
Double glazed windows have undeniable advantages over their wooden and aluminum counterparts. This is proven by many years of experience in their operation. When choosing a Double glazed window, the buyer pays attention to the insulation characteristics, first and foremost. PVC profile is remarkable in that it minimizes energy costs, and this leads to lower costs during the heating season. There is no need for additional costs for heating the room, as the Double glazed window retain heat and a comfortable atmosphere in it.
Due to the tightness provided by the seals, there is no draft, condensation, or any raining in entering the room. Therefore, the inclement weather will remain outside the Double glazed window, and the room will remain comfortable and cozy.
The advantage of Double glazed window plastic windows is a variety of configurations. Firstly, it concerns the number of chambers in the plastic profile. The optimal choice would be from 3 to 6 chambers, depending on the climate. In cold and windy regions it makes sense to install Double glazed windows with more chambers, for example 4 or 5. In this way you will retain 30% more heat. Each chamber performs its functions: the first serves to drainage of moisture and condensation, the second consists of a reinforcing profile, the third fixes the fittings and increases tightness. If the Double glazed window has 4, 5 and 6 chambers, the strength and noise insulation characteristics are increased many times over.
Particular attention is paid to the insulating glass unit, as it takes 80% of the entire structure of the window. Double-glazed windows may be impact-resistant, solar protection, noise insulation, and multifunctional. So, in soundproof glass unit is used thick glass; in the impact-resistant are used tempered, multi-layer glasses, glazing with a vinyl reinforcing film; multi-layer magnetron coating provides noise insulation, heat-saving and protective functions in the multifunctional glass.