Double-Glazed & Triple-Glazed Windows
Our thermally broken uPVC, multi-plane windows are the perfect choice for temperature and noise control, with a price 30% lower than thermally broken aluminium windows, Prestige Plus will be saving you money & let you enjoy a comfier home or office all year round!
All our products are available in great range of styles, colours and even timber-look, at competitive prices. Our uPVC frames are also treated with a unique anti-UV formula ensuring durability and ability to withstand harsh Australian weather changes. Just in case you wanted one more reason to trust us, Prestige Plus offer 10-years warranty with any window you buy from us! 
What Is Multi-Plane Glazing?
Double Glazed & Triple Glazed windows are insulated glass units (IGU) constructed by a combination of multiple glass panes, coming together to create a single window system. Most IGUs are double glazed i.e. containing two panes of glass, triple glazed with three glass panes, both are becoming a regular choice of many families due to energy costs and noise reduction. The panes of glass in IGUs are separated by a spacer, filled with insulating non-toxic gas. The glass is then fitted into window frames, which is made wider to accommodate the two panes.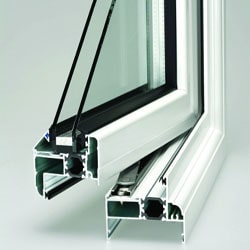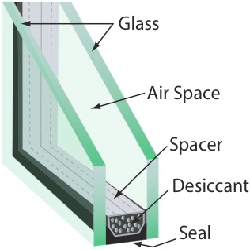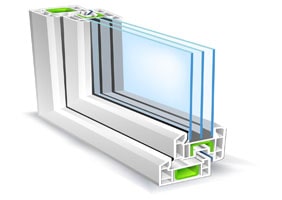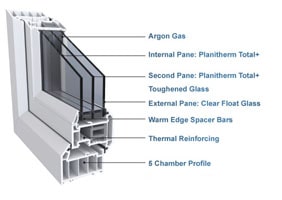 Benefits Of Multi-Plane Windows
Better Insulation & Energy Saving
If you need a much quieter home and better insulation, our double glazed windows are the perfect choice & combined with out uPVC profile, it can even improve soundproofing by up to 80% compared to standard single glazed aluminum, with our noise reduction options! This is thanks to the gap between the two glass panes, which has been filled with a non-toxic insulating argon gas. This air space will make your home warmer in winter and cooler in the summer, automatically reduce your reliance on air conditioning & helping you significantly save on energy bills. 
Furthermore, double or triple glazed windows reduce condensation, thus preventing the growth of mould and mildew, making your residence a much healthier and happier place for life.  This is combated by the Desiccant in the spacer and tightly sealed edges, you'll have a clear view, free from condensation. 
With people working from home, now more then ever it has never been so important to consider the soundproof properties of your windows! Our inner and outer window panes can be adjusted in thickness, to improve sound reduction even further depending on your needs. You won't have to worry about being disturbed by outside quarrels or noisy neighbours because multi-plane windows from Prestige Plus will offer you a much peaceful surrounding.
Another benefit of double glazed windows is reduced damage to furnishings. Namely, if you opt to install our double glazed windows, the amount of sun and heat entering the room will be significantly decreased thanks to their UV-reducing properties. Our Low-E glazed multi-plane windows & doors will prolong the colour of your carpets, sofas and ease the burden on your timber-flooring!
Security is one of the most important topics to consider when building or renovating a home, which is why Prestige Plus only installed toughened or laminated double or triple glass, as our minimum standard. This ensures that no matter the size of your project, your windows & doors will be safe, secure & aesthetically appealing. 
Thinking of selling your home? With benefits like more natural lighting, low maintenance, noise insulation, thermal insulation, energy saving & high security- what more could a new home owner or tenant want! Your initial investment will be easily recognised & rewarded.
If you want your home to become more soundproof, while making it more comfortable to live in and improving its security, it's crucial that you choose double glazed windows. However, before you do it, be sure to contact Prestige Plus experts and have true professionals take care of your home improvement. By contacting Prestige Plus you can relax and feel assured the job will be done correctly without making you break the bank after only one remodelling project.